Permanent • Immediate • Non-surgical
miraDry is the only US Food and Drug Administration-cleared treatment that dramatically reduces underarm sweat in as little as one appointment. 1 Over 150,000 miraDry treatments have been performed worldwide.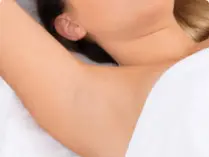 Numb It
Local anesthesia is administered to assure maximum comfort during the treatment.
Mark It
A temporary tattoo is used to mark skin in preparation for treatment.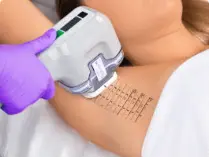 Treat It
The area is treated with miraDry, eliminating sweat glands in the underarm.
miraDry is an easy treatment that can be completed in as little as one hour. The miraDry System uses thermal energy that targets and eliminates the sweat glands in your underarm. Once those glands are eliminated, they do not grow back.